Non-KFUPM Library Users Policy
---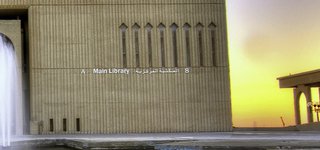 KFUPM Library is a resource center for the entire Eastern Province. It is open to all for on-site/in-house use.
---
SERVICES EXPECTED BY NON-KFUPM LIBRARY USERS
The KFUPM library's rich collection comprising of monographs and serials, as well as electronic resources on almost all subjects of human knowledge, has great attraction for the employees of the government and private organizations to avail of our library resources and services. Our library's objective is to also serve them.
NON-KFUPM users are employees of government and semi-government organizations, and private institutions, and students from both public and private educational institutions
There are two types of non-KFUPM library users.
Guests (or Step-in users)
Guest users are welcomed to visit the main library and access and use its resources (except electronic resources) within the library. They can also make photocopies of library materials within the copyright limit. Guest users are not required to obtain Library ID cards. However, they may be asked to show some identification at the library security gate.
Registered members
Registered members will receive the same services as those received by guest users, plus permission to access and use electronic resources. The Library will charge a nominal non-refundable annual membership fee of SR 200, which can be paid at the circulation desk. Faculty and students from educational institutions will pay SR 100 only as a membership fee. A library ID card will be issued to the user entitling him/her to access the library's electronic resources through the PC lab in the main library. 
BORROWING PRIVILEGES FOR NON-KFUPM LIBRARY USERS
Non-KFUPM users, both Guests, and Registered users can borrow materials from the main library as per the following regulations.
Users are required to fill out the Non-KFUPM Borrower Form and submit it to the Circulation department together with a copy of the National ID Card or Iqama.
Only monographs (books) may be borrowed. A maximum of three (3) books can be borrowed or retained at the same time.
Users will pay a deposit (refundable) of SR 200/book. (SR 500 is the maximum deposit).
The maximum loan period for any item is two (2) weeks. No item can be renewed.

If the borrowed books are recalled by any KFUPM user, the library will send an email/SMS message to the user requesting him/her to return the book. A maximum of five
(5) days will be given to the user to return the recalled book(s). A fine of SR 5 will be calculated for each late return day until the book is returned.

Replacement charges for lost books will be double the cost of the book
Failure to pay fines or replacement costs for lost books will result in withholding the deposit amount, in addition to suspending the borrowing privileges in the future.
When the user decides that he does not need the borrowing services anymore, he/she can get back the SR 500 deposit.
The KFUPM Library policy governs all transactions